Wellness Simplified!
Welcome to Our Farm
Visit the farm Thursday thru Monday 10am-5pm!
Or have FGF products delivered to your door with FREE shipping on orders over $75!

A Family Owned and Operated Farm
The Rahm's have owned & operated Forrest Green Farm for 31 years!

Regenerative 423 Acre Farm
We take pride in our farming practices and use terms like "Regenerative Agriculture" and "Beyond Organic" to describe them. Our aim is to improve the land and not harm it. While we aren't certified organic, we hold ourselves to standards that we consider to be well beyond organic.

100% Grass-fed & Finished Beef and Pasture Raised Chickens & Eggs
Our commitment to sustainable and regenerative farming practices means that we don't use any harmful pesticides, hormones, antibiotics, GMOs, synthetic fertilizers, or fillers on our land or with our animals. We believe in the importance of treating our animals with care and respect, as they are an integral part of our holistic approach to farming. By nurturing the health and wellbeing of our animals and our land, we are able to provide our customers with the highest quality, nutrient-dense food and products possible.

At our farm, we take pride in growing a wide range of seasonal plant starts. Our focus is on cultivating culinary and medicinal herbs, natives, and heirloom vegetables & flowers. To ensure the highest quality, we use a specially formulated soil mix that we personally mix by hand. Plus, we never use pesticides, herbicides, or chemicals on our plants. We only purchase organic seeds from companies that sign the Safe Seed Pledge. Additionally, we bring in a selection of larger landscape plants, perennials, and fruit plants from local growers. We strive to provide our customers with the healthiest and most sustainable plants.
About our herbal products
We create herbal products that are uniquely formulated to promote wellness, and they taste great!
About our plant nursery
Our mission is to provide you with the highest quality plants that are grown naturally and sustainably in our own greenhouses and on our farm. We never use harmful chemicals like herbicides, pesticides, or chemical fertilizers in our plant growth process. Additionally, all of our seeds and cuttings are free from any genetic modification (GMO). It's important to note that all of our seed suppliers are members of the Safe Seed Initiative, ensuring that our plants are safe and healthy for you and the environment.
About our gardens & cut flowers
We welcome you to come and explore our farm, where you can take a leisurely stroll through our beautiful gardens. You'll have the opportunity to admire a wide variety of herbs, flowers, and vegetables that we offer for sale. Additionally, we have gardens that showcase our herbal production and our circle garden method for easy harvesting in an actual working environment. It's an experience you won't want to miss!
About our animals
The farm is home to Hereford cattle, broiler chickens, laying hens, turkeys, guardian geese, and guardian dogs.
About the farm & the team
FGF is a small family farm that has been run by the family for 30+ years and is still going strong.
Find Us!
We are conveniently located between Richmond and Charlottesville. We are less than 10 minutes off of I-64, making it a super easy stop for anyone driving through the area.
Market on the Farm & Gift Shop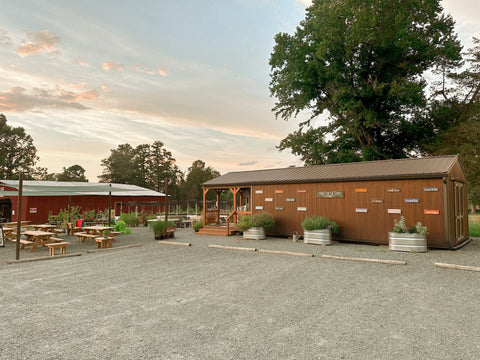 2317 Evergreen Rd.
Louisa, VA 23093
Store Hours
Thursday - Monday: 10am - 5pm
Tuesday & Wednesday: Closed
Year round!