Plant Nursery
Our plant lists represent what we will try to grow during the 2023 growing season from March through November. Not all plants are available at once due to seasonality and space constraints. Early spring vegetables and cool-weather herbs are available by the 3rd week of March, and most herbs, flowers, and summer vegetables are ready by late April. From late April through mid-summer, we also bring in a variety of quality perennials, fruits, and shrubs that are not included in the lists but are grown here in VA. Starting in late August, we offer fall plant starts, and as the weather cools down, we have pansies, mums, and pumpkins.
We cannot take or hold plant orders due to limited staff. Plants are sold on a first-come, first-serve basis. We will post a weekly plant availability list on our Facebook Page in March, April, and May. Make sure to "like" us to keep updated on what plants are available at the Market on the Farm!

We take the Safe Seed Pledge seriously. We believe that genetically engineered varieties have not been sufficiently tested before public release. Further research and testing is necessary to assess the potential risks of genetically engineered seeds. We support agricultural progress that leads to healthier soils, genetically diverse agricultural ecosystems, and healthy people and communities.
August 2023, fall plants are ready!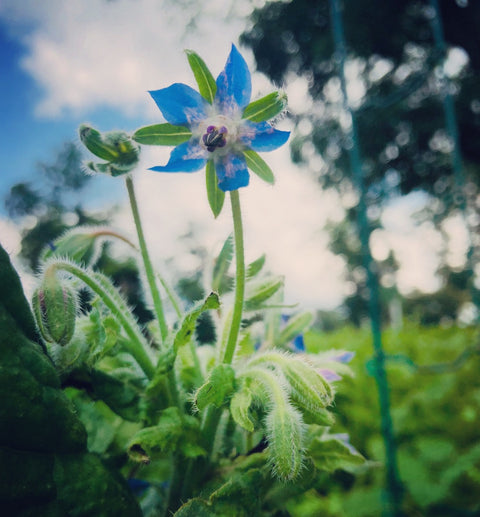 Also located on page 20 in Wellness Simplified! Herbalism From The Ground Up
Hand Mixed Soil
Potting Soil - $9.00 per 5-gallon bag
Our potting soil is specially crafted to help your plants thrive. It's carefully blended by hand and sifted to create a smooth texture. It features biologically active compost, top-notch Sphagnum Peat Moss, Perlite, and natural soil additives that provide nourishment to your plants during the entire growth cycle. It's perfect for growing plants in containers.
Garden Soil - $7.00 per 5-gallon bag
Looking to grow healthy plants? Our custom garden mix is perfect for raised beds or enhancing your garden beds. Hand-mixed and screened for a smooth consistency, it contains biologically active compost, high-quality Sphagnum Peat Moss, sand, and natural organic soil amendments to feed your plants throughout the growing season.
Our Garden and Potting Soil are available for purchase at the Market on the Farm. Please note that if you want a large quantity of bags, it is best to call ahead to check availability.
The Safe Seed Pledge
"Agriculture and seeds provide the basis upon which our lives depend. We must protect this foundation as a safe and genetically stable source for future generations. For the benefit of all farmers, gardeners and consumers who want an alternative, We pledge that we do not knowingly buy or sell genetically engineered seeds or plants.The mechanical transfer of genetic material outside of natural reproductive methods and between genera, families or kingdoms, poses great biological risks as well as economic, political, and cultural threats. We feel that genetically engineered varieties have been insufficiently tested prior to public release. More research and testing is necessary to further assess the potential risks of genetically engineered seeds. Further, we wish to support agricultural progress that leads to healthier soils, genetically diverse agricultural ecosystems and ultimately healthy people and communities."