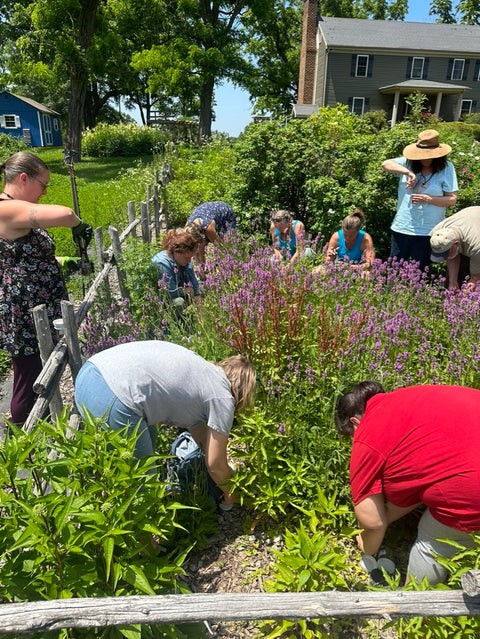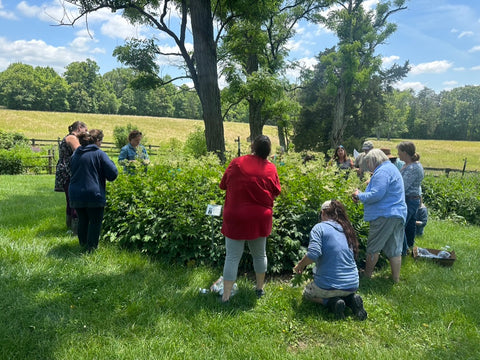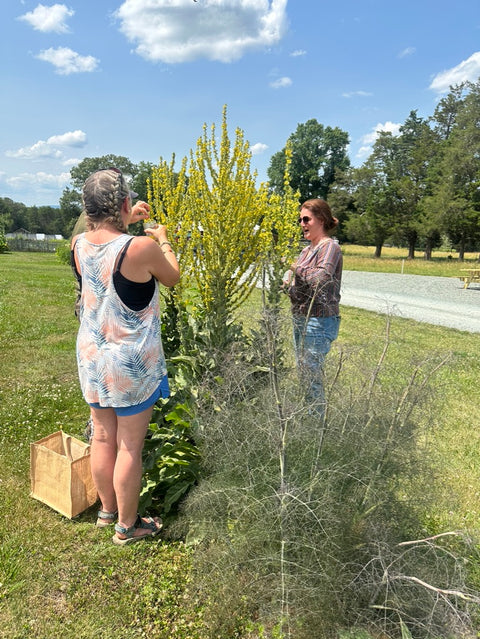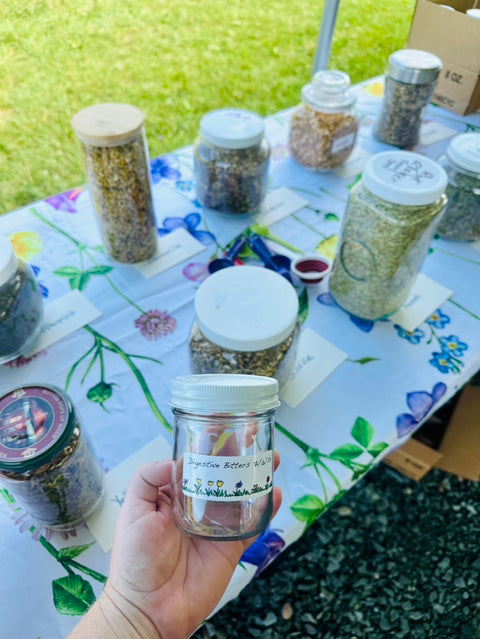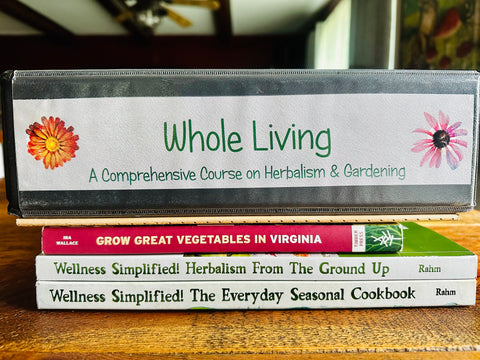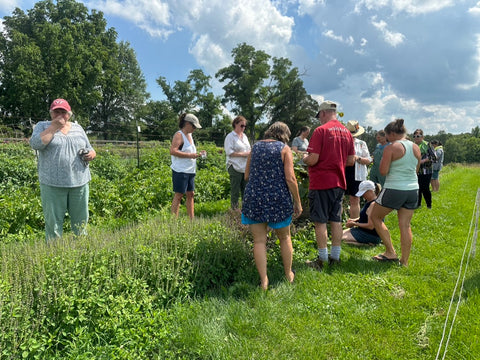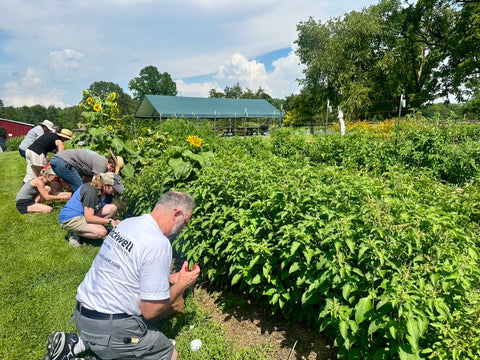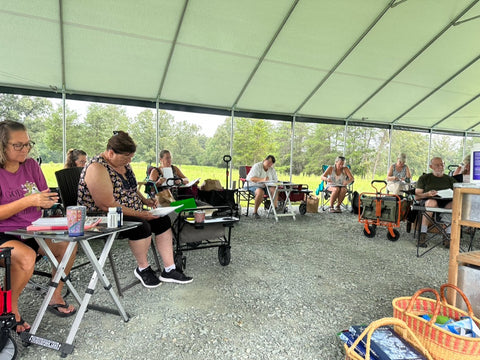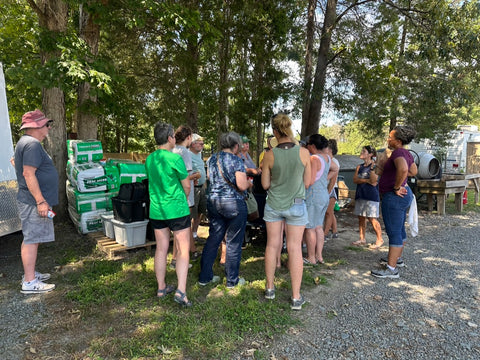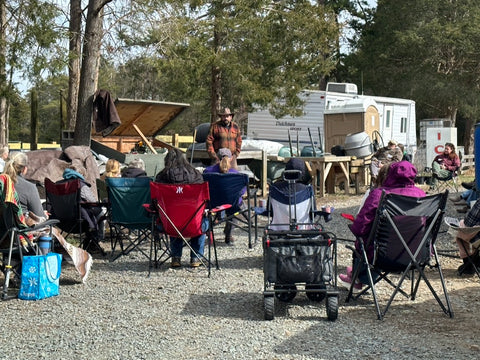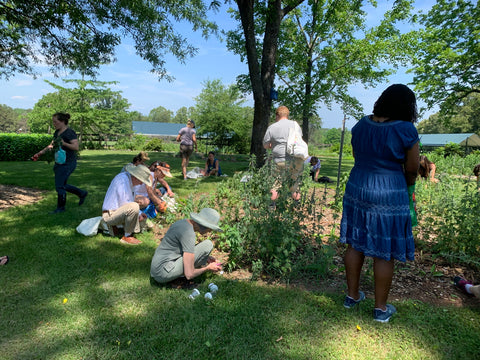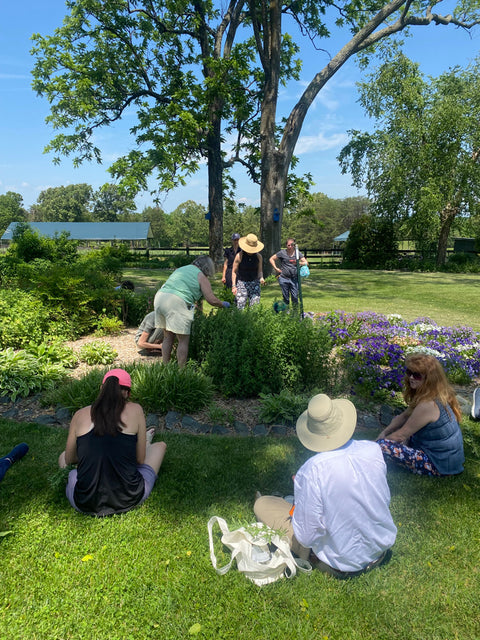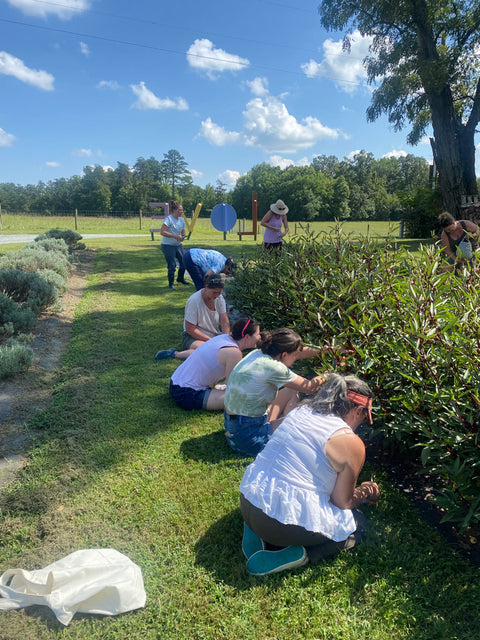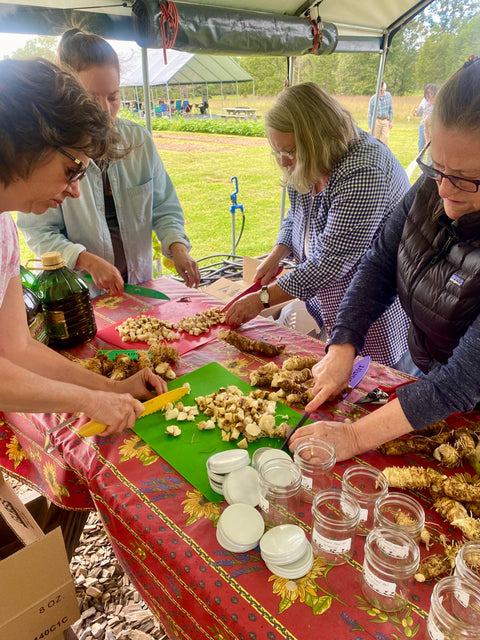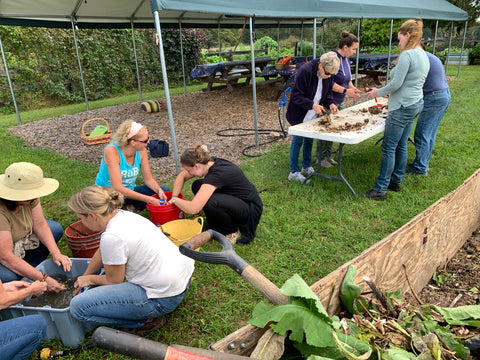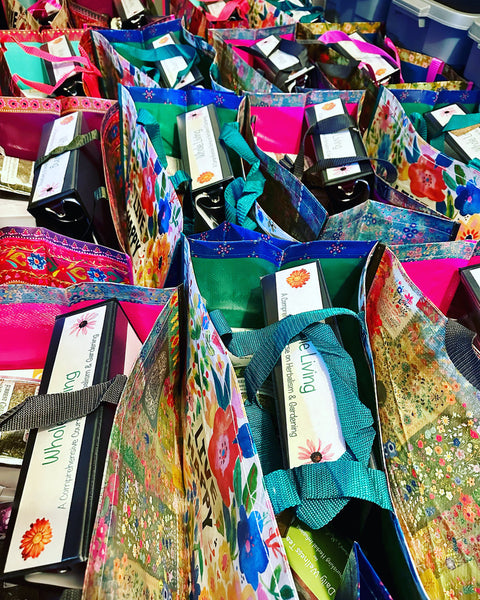 Forrest Green Farm
Whole Living Class: A Comprehensive Course on Herbalism & Gardening
This is a hands-on course in herbalism, gardening, seasonal eating, and food as medicine at a working farm.

On this journey, you will learn by growing, harvesting, nourishing, and healing with the herbs and vegetables as you learn to make them part of your everyday life.
We will lay the groundwork for healthy living by exploring and learning how to live in rhythm with the natural world. Mother Nature has so much to offer us and we must learn to be still, observe, connect, build awareness and relationships to explore all the bounty that is available. We then move forward in developing our knowledge base to work with herbs safely and instill confidence to use them to nourish and heal yourself, your family and your friends.
This is a hands-on course in both gardening and herbal medicine skills. You will work on deepening your knowledge and connection with the plants over a growing season. Through the use of this knowledge, you will learn how to make quality medicine from the plants. The herbs in combination with whole foods will provide you with a foundation for healthier living and fulfillment of a more self-sufficient lifestyle.
 Upon completion of this class, you will receive a certification of completion.
Course Topics
Learn 125+ Herbs!
85 hours of in class learning throughout a growing season on a working farm (14 classes).
Wildcrafting: ethics & safety of wild plants.
Harvesting Medicinals: learn the right parts to harvest, when to harvest, and drying times and methods.
Medicine Chest: herbs for first aid, colds & flu and everyday ailments.
Medicine Making: teas, tinctures, glycerites, elixirs, syrups, oxymels, oils, vinegars, infused honey, flower essences, salves, liniments, poultices, shrubs, herbal candy/gummies, smudging and aromatherapy.
Herbal Body Care and recipes.
Herbs and Food as Medicine: delightful culinary dishes, everyday food as medicine, seasonings and seasonal eating to support the body systems includes a full recipe cookbook for the seasons.
Body Systems: overview with common aliments and support to gain back wellness. 
Foundational Herbalism: Individualized Constitutions, Plant Energetics, Tissue States, Herb Tastings, Diagnosis and Formulations.  
Cordials, Meads, Water Kefir and Kombucha/Fermented Drinks
Navigating the Food Systems: learn about cooking with herbs and healthy foods as well as the preparations for obtaining optimal nutrition from your food.
Fermented Foods: kefir, yogurt, sodas, kombucha, and vegetables.
Preserving Herbs & Vegetables: dehydrating, pickling and fermenting.
Gardening From Seed: ordering, starting, storing, transplanting, saving seeds and greenhouse growing.
Soil: amending & creating biologically active soil.
Fertilization: organic materials, natural amendments and understanding soil samples.
Preparing Beds: layering/ no till, when to rototill, raised beds and containers.
Companion Planting: the science and enhancement of growing complementary plants.
Crop Rotation, Cover Crops & Natural Mulches
Herb Growing: planting & tending.
Vegetable Growing: planting, tending, protecting, harvesting and preserving.
Insects: beneficial insects & pest control.
General Garden Care for Success
 Wellness Simplified! ✨
Modern Sustainable Living 
Whole Living Class focus is primarily based on herbs that can be grown in Central Virginia.You learn to identify and connect with the culinary and medicinal herbs that are grown at Forrest Green Farm and you make medicine from them. During Whole Living, we build relationships with our herbal allies and begin to see how they help us maintain daily wellness. This gives you a connection with the plants and the medicine you make from them. 
Krista & Rob have been farming and gardening at Forrest Green Farm for 30+ years. They use their practical experience from their own success and failures to help mentor you, in a realistic way, on how to incorporate Whole Living principles into your own life.
Join us for our 15th year of Whole Living class at the farm for a growing season of observing and learning the beauty, harvest, food/nutrition and medicine from the plants that we grow. 
This is a Hands-on Class!
You will take home projects from every class. You will take home 70+ projects throughout the course! This is a learning opportunity and a chance to produce and immediately start using your new skills to enhance your lifestyle with the projects you make in class. 
Body Systems
Discover effective strategies to address prevalent health issues that may arise in each of the 12 body systems. Explore the potential benefits of incorporating nutrition, herbs, and lifestyle modifications to promote optimal well-being and restore balance.
All 12 Systems Covered in Class: skeletal, muscular, nervous, endocrine, cardiovascular, lymphatic, respiratory, digestive, urinary, reproductive, integumentary, and immune.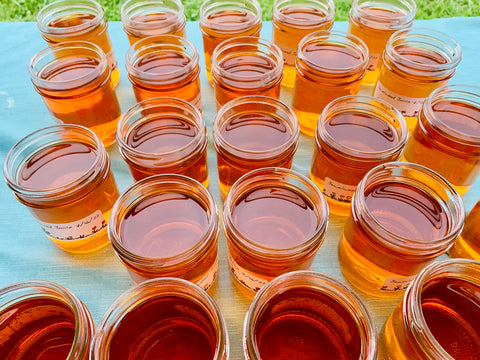 Build Your Own Apothecary
70+ projects to build your medicine chest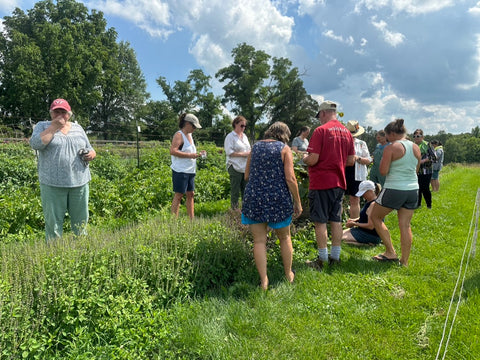 Spend an Entire Growing Season at the Farm
See the ins and outs of a real working herb and animal farm March - October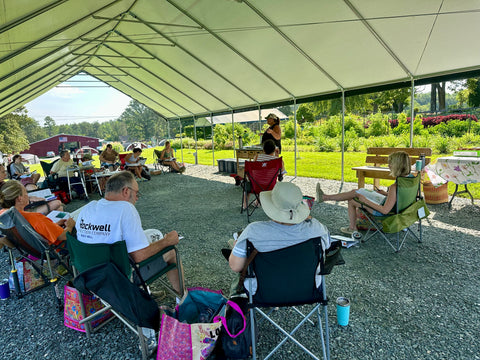 Mentorship & Guidance
In-person hands-on learning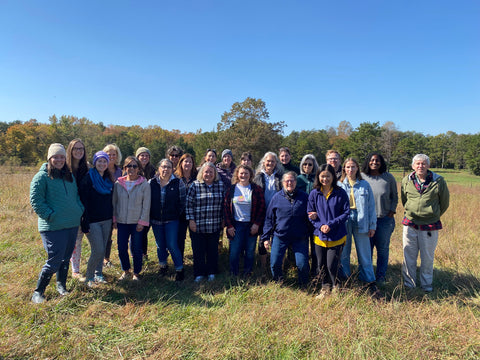 Community
Make friends with like-minded individuals
Testimonials
From past Whole Living Class Participants
I've been using the first edition of the book since January 2023. I am a member of the Whole Living Class at Forrest Green Farm. This book is enormously helpful and is one of the three "go to" books I use for reference material as I create my own formulas to support my family. Krista and Sky are great teachers, and this book demonstrates their commitment to the herbal way of life. I have learned more than I expected… and the class still runs through October. If you live in central Virginia and want to explore, learn and get hands-on with herbs and gardening, get the book… and enroll in the class. Simple as that.
I have always struggled with plants, except for herbs since they seem to like my neglect.  When I saw the Whole Living class description, I thought maybe I'd learn what to do with herbs and maybe get some pointers on other things.  Boy was I unprepared for the amount of amazing things I learned!  It was a spectacular experience that has changed the way I interact with my land and food in general.  I now feel very confident not only in my yard, but in my kitchen.  I can't thank Krista enough for everything she's taught me!
After trying to get some herbal education on-line, it just wasn't working.  I just didn't get it.  I heard about Forrest Green Farm's Whole Living Classes and knew immediately it was what I needed.  I had to travel 3 hours each way to attend class, but it was worth the journey.  I only missed one!  Special Place, Special Classes, Special People! The Herbs speak to you there, and I learned so much about Natural Living also.
I have taken both Whole Living 1 and 2 as well as the Herbarium Class, the Mushroom Log Class, and have had several other reasons to visit wonderful Forrest Green Farm.  As a health care professional (NP-C), this experience has been eye-opening and life changing, for others in my family as well as for me.  As an instructor of community health nursing, many of my students have even visited the farm with me to learn about the activities and offerings there.

With Krista's considerable wisdom and guidance, I now have my own medicinal and culinary herb garden to enjoy and to produce many of the good medicines and other crafts discovered through her classes. 
It's very easy to get wrapped up in the fast paced life around us, and not pay any attention to our health.  I came to Forrest Green and the Whole Living class after visiting several doctors about severe health issues.  The doctors had no diagnosis but were happy prescribe plenty of meds.  Knowing there must be another way, I took the Whole Living class to diagnose and treat myself, through natural remedies.  I gained twice as much knowledge and know-how than I expected and walked away with lifelong resources and friends.  One year after starting the class I have found more day to day energy, less symptoms, and more inner peace than I have had for several years - and am on track to be fully healed!
2024 Saturday Class Dates
9am-3pm
March 23
April 6, 20
May 11
June 1, 15, 29
July 13, 27
August 17
September 7, 21
October 5, 19
2024 Thursday Class Dates
9am-3pm
March 21
April 4, 18
May 9, 30
June 13, 27
July 11, 25
August 15
September 5, 19
October 3, 17
Whole Living Class Cost
$2,400, which includes 70 take-home projects, a copy of our book Wellness Simplified! Herbalism From The Ground Up, a copy of our cookbook Wellness Simplified! The Everyday Seasonal Cookbook, a gardening textbook, samplings of seasonal whole food recipes, and all other project-making materials (except for alcohol for tincture making). Space is limited! 
Payment Plan Options
Option 1: Pay in full: $2,200. This is a $200 discount for upfront, full payment in one transaction.
Option 2: Pay $500 deposit now to hold your space. Then make four payments of $475 each. You must be paid in full by the first class.
Timeline for the Payment Plan-
Payment 1: November 1st
Payment 2: January 1st
Payment 3: February 1st
Payment 4: March 1st
Option 3: We offer two work trades per year for those interested in working at the farm to offset their class payment. The work day is Tuesday each week. Contact us by email to learn more and schedule an interview.
You MUST be paid in full by the start of class on March 21, 2024.
Please fill out the registration form below and then scroll back up to pay.
A 3% credit card processing fee will be added to class payments.