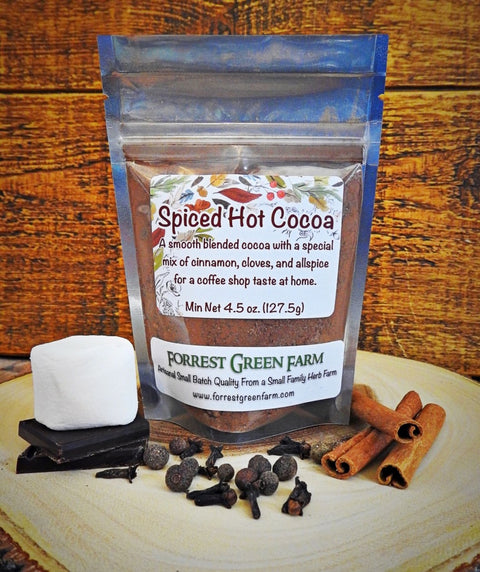 Forrest Green Farm
Spiced Hot Cocoa
We highly recommend adding this amazing preservative-free hot cocoa to your fall and winter beverage lineup. It's made with real sugar and cocoa, no artificial flavors or additives. This hot cocoa boasts a smooth blend of top-quality cocoa, combined with a unique mix of cinnamon, cloves, and allspice, giving you a truly coffee-shop-worthy taste in the comfort of your own home. Trust us, this is one hot cocoa recipe you don't want to miss out on!
Taste profile: spiced, chocolatey, fancy, sweet, rich
Ingredients: sugar, cocoa powder, cinnamon, cloves, sea salt, allspice

This sugar is made from cane juice that is extracted, clarified, evaporated, and crystallized on the same day it is harvested. It is an organic sugar that has a beautiful blonde color, a delightful taste and is completely natural. Unlike refined white sugar, this sugar undergoes minimal processing, making it a healthier and more delicious option.

Organic premium Dutch Cocoa Powder, also known as Dutch-processed cocoa, is made when chocolate liquor is pressed to remove three-quarters of its cocoa butter. The remaining cocoa solids are processed to make fine unsweetened cocoa powder. Dutch cocoa powder has a dark color and smooth chocolate flavor.

Cinnamon (Cinnamomum spp.)
Cinnamon possesses a distinctive flavor profile that exudes a comforting warmth and a delightful sweetness. Additionally, it has been acknowledged to enhance digestion, reduce blood sugar and cholesterol levels, and promote circulation.

Cloves (Syzygium aromaticum)
Cloves are known for their strong aroma, pungent taste, and warming effect. They have been a popular spice in cooking for centuries, competing with other well-known spices like cinnamon, ginger, and nutmeg. Not only used in cooking, cloves have also been added to liqueurs, mulled wine, perfumes, and even love potions. For thousands of years, cloves have been an important herb in the spice trade.

Unrefined sea salt is rich in naturally occurring trace minerals which are easily assimilated by the body. Adding a pinch of salt to chocolate recipes can help accentuate sweetness, suppress bitterness, and enhance the overall flavor. It's a simple trick that can bring out many subtle nuances in chocolate and make it taste even better.

Allspice (Pimenta dioica)
 Allspice has a unique taste. It's a combination of cloves, cinnamon, and nutmeg, which is why it's called "allspice." It has a slightly bitter and earthy flavor with a hint of fruity sweetness. It's perfect for adding depth to savory dishes and herbal formulas.
Hot Cocoa: 
Whisk 2-3 tbsp. of Hot Cocoa Mix with a cup of hot water, milk, almond milk, or coconut milk.
For an Extra Treat:
Add 1/4 tsp. vanilla and top with whip cream or marshmallows.