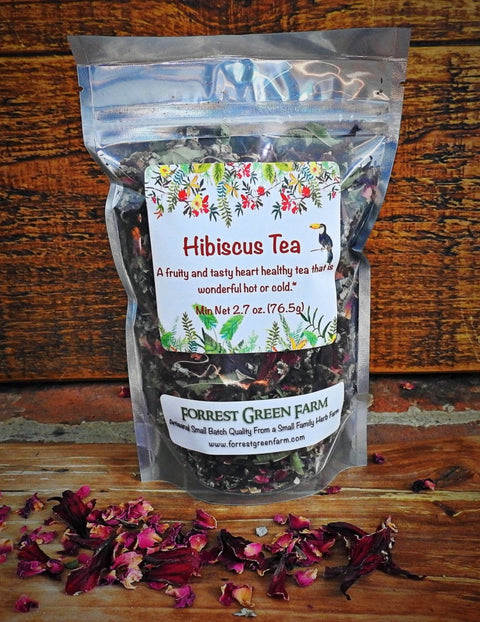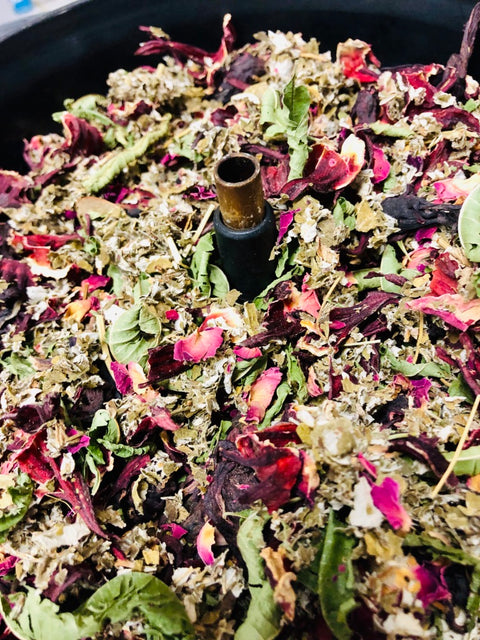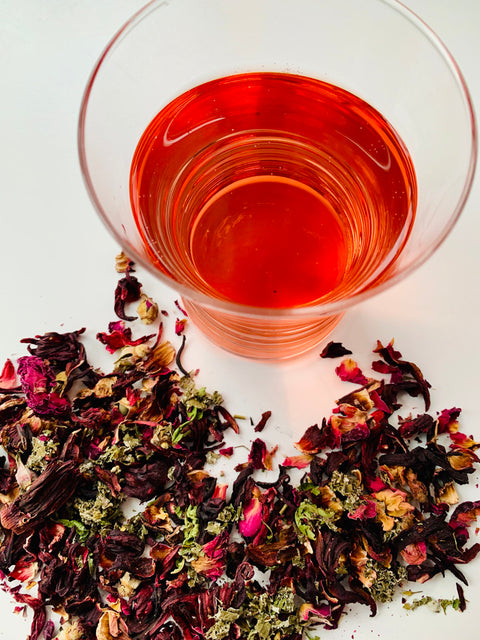 Forrest Green Farm
Hibiscus Tea
We highly recommend trying this delicious loose tea either hot or iced! The combination of hibiscus, rose, raspberry, and lemon verbena creates a fruity and slightly floral taste that is sure to delight your taste buds. Not only does it taste amazing, but it also has many health benefits. Hibiscus, in particular, has been known to support heart health, blood pressure, and cholesterol levels. It is also a great source of flavonoids, antioxidants, polyphenols, and vitamin C. Additionally, it supports the entire urinary system. So go ahead and indulge in a cup of this vibrant-tasting tea while reaping the many health benefits it has to offer!
Taste profile: fruity, tart, sweet, floral
Ingredients:  hibiscus, raspberry, lemon verbena, rose 

Hibiscus (Hibiscus sabdariffa)
Did you know that hibiscus is great for your heart health? It has cardio-protective properties and helps to lower blood pressure and cholesterol. Additionally, hibiscus is a rich source of vitamin C, flavonoids, antioxidants, and polyphenols. Plus, it's perfect for cooling down on those hot summer days.

Raspberry leaf is an incredibly nutritious herb! It's packed with antioxidants, vitamins, and minerals. Which makes it a great addition to any diet. Interestingly, it's also known as a hormone balancer, bone builder, and reproductive tonic for both men and women. It is a great herb to incorporate into your daily routine.

Lemon Verbena (Aloysia triphylla)
Adding Lemon Verbena to formulas provides a delightful, subtle lemony taste. Additionally, it aids in digestion, promotes better sleep and has a calming effect on the nerves.

Rose petals can have a calming effect on the body, reducing heart palpitations, nervous tension, and anxiety. Additionally, they can help with inflammation, making them a potential natural remedy for those suffering from IBS.
For a Tea:
Pour one cup boiling water over 1 tbsp. of the herb tea mix. Let steep for 5-10 minutes, then strain. Sweeten with honey or stevia, and enjoy.

For Iced Hibiscus Tea:
Bring 15 cups of water to a boil, turn the heat off, and add 8 tbsp. Of herb tea mix to the water. Let steep for 30 minutes. Next, strain off the tea mix and sweeten it with apple juice to taste, and add ice.
If using it to lower blood pressure, be careful if taking prescription medications. Don't take large doses during pregnancy.