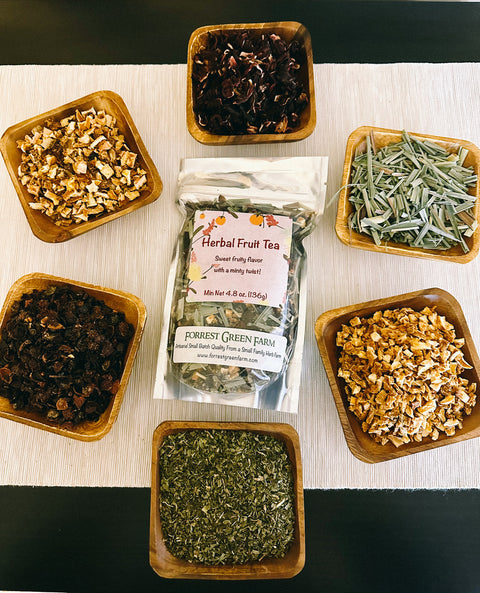 Forrest Green Farm
Herbal Fruit Tea
Herbal Fruit Tea is packed with all kinds of delicious herbs and fruits that are chock-full of vitamins A and C. You can enjoy it year-round, whether you are snuggled up with a cozy cuppa hot tea in the winter or sipping on a refreshing iced tea in the summer. It's the perfect beverage for any occasion!
Taste profile: sweet, minty, fruity, citrusy
Ingredients: rose hips, lemongrass, hibiscus, peppermint, orange peel, lemon peel   

Rose hips are a valuable source of vitamin C, making them a significant ingredient in cold and flu remedies. Additionally, they impart a fruity taste to herbal teas.
Lemongrass (Cymbopogon spp.)
Lemongrass has calming properties that can help relieve stress. It is also beneficial for digestion and acts as a mild cleanse for the liver and kidneys. Its light lemony flavor adds brightness to any tea.

Hibiscus (Hibiscus sabdariffa)
Did you know that hibiscus is great for your heart health? It has cardio-protective properties and helps to lower blood pressure and cholesterol. Additionally, hibiscus is a rich source of vitamin C, flavonoids, antioxidants, and polyphenols. Plus, it's perfect for cooling down on those hot summer days.

Peppermint (Mentha X piperita)
Adding peppermint to any recipe not only enhances the flavor with a refreshing minty taste but also helps with digestive issues, upset stomachs, and headaches.

Orange Peel (Citrus x sinensis)
Orange peel has more enzymes, flavonoids, and phytonutrients than the fruit itself! Plus, it's a digestive bitter, which can help stimulate digestion.

Lemon Peel (Citrus x limon)
We add lemon peel to herbal teas for its delightful aroma and flavor. The peel provides a unique and lively citrus taste that enhances the overall experience. Moreover, it can help with digestion by stimulating the production of gastric juices and supplying a good amount of vitamin C.
For a Tea:
Pour one cup boiling water over 2-3 tsp. Of herb tea mix. Let steep for
10 minutes then strain. Serve hot or iced.

For Herbal High C, Fruit Punch:
For a healthy, naturally red fruit drink kids love: bring 15 cups of water to a boil, turn heat off and add 8 tbsp. Of herb tea mix to the water. Let steep for 30 minutes. Next, strain off the tea mix and sweeten with apple juice (our favorite with this tea blend), honey, or stevia. Will keep in the refrigerator for up to a week.