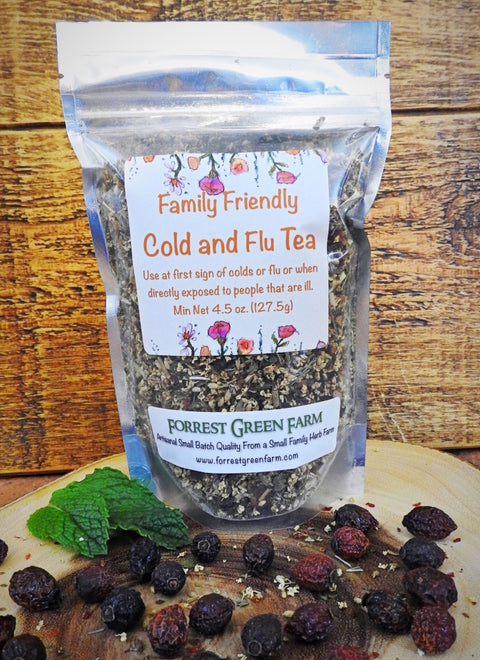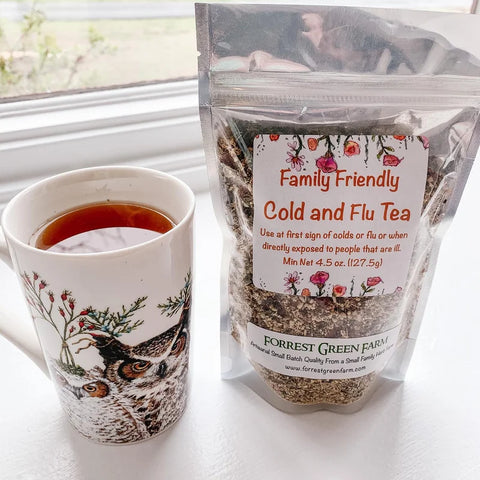 Forrest Green Farm
Family Friendly Cold & Flu Tea
A natural remedy that is a game-changer for the whole family during cold and flu season. It is the perfect formula for supporting the immune system. This loose herbal tea is made with antiviral herbs that help us stay healthy when we're directly exposed to people who are sick. It also contains diaphoretic herbs that help to reduce a fever. It's safe for the whole family, tastes great and really makes a difference!
Taste Profile: fresh, fruity, green, floral, sweet flavor
Ingredients: elder flower, rose hips, peppermint, yarrow

Elder Flower (Sambucus nigra spp.)
Elder flowers are great for fighting viruses and can help with respiratory problems such as colds and flu. These flowers are also known to have a calming effect on the nerves, making them helpful for people dealing with anxiety and depression.

Rose hips are a valuable source of vitamin C, making them a significant ingredient in cold and flu remedies. Additionally, they impart a fruity taste to herbal teas.

Peppermint (Mentha X piperita)
Adding peppermint to any recipe not only enhances the flavor with a refreshing minty taste but also helps with digestive issues, upset stomachs, and headaches.

Yarrow (Achillea millefolium)
Yarrow is responsible for regulating blood function in the body. As a diaphoretic, it has the ability to extract heat from the inner core, making it an excellent herb to use for treating fevers. Consuming Yarrow in the form of hot tea promotes circulation throughout the body, causing a cooling effect from within. Additionally, Yarrow has pain-relieving properties that can be useful in managing symptoms of colds and the flu.
For a Tea:
Pour two cups boiling water over 1 tbsp. Of herb tea mix. Cover and steep for 10 minutes. Strain and sip.